Limited Edition
Author: Adamus
28 Apr 2008
On the first day of my vacation in Portugal (which was great by the way) my girlfriend drags me into a dusty looking liquor store, tightly packed from cracked-tiled floor to dirty ceiling with all kinds of booze.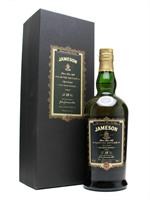 I immediately head for the whiskey section, of course. It's not particularly elaborate, but then my eyes fall upon a sight I'd never expect to see here: an original boxed bottle of Jameson 15 year old Limited Edition.
This particular vintage is a true collector's item. Bottled especially for the millennium, it's becoming increasingly difficult to get your hands on this glorious whiskey. And an obscure little liquor store near Albufeira, Portugal has not one but two of these wonderful gems. The price is €60 – nearly half the average online price of €115 for this rare vintage.
I'm inclined to by both but keeping my baggage limit in mind I opt for only one. It's a fine addition to my collection, and I don't want to spoil the joy of the discovery for the next Irish Whiskey connoisseur to stumble into this establishment.