Author: Adamus
25 Jan 2010
There are lots and lots of things going on in the world right now to be depressed and whinge about – the Haiti disaster, the official handover of political power in the USA to corporations, the failing peace process in Northern Ireland, the Brangelina breakup – but I couldn't care less because all is good and well in my world.
You see, I found this today: Connosr – a social network for Whisky lovers.
If a psychic were to delve in to my deepest thoughts and extract my greatest dreams and hopes, they'd find something very similar to Connosr. It's a combination of two of my greatest non-human loves: whisky and the Internet.
So from now on if you're looking for me online, this is probably where I'll be.
Author: Adamus
8 Oct 2008
I stumbled upon this great article about graduating from beer to whiskey. Whiskey is a tough drink to get in to, but a very rewarding beverage once you're used to it. Those tasting notes you often read, waxing lyrically about the multitude of flavors in a whiskey, aren't exaggerated. A good whiskey is complex and carries many different flavors.
I used to be an Irish whiskey fundamentalist, but later I discovered some fantastic Scotch whiskies like Ardbeg and Bowmore. And my best pal once gave me a bottle of Japanese whisky that rivals the best Irish blends.
In case you're wondering about the different spellings of the word 'whisk(e)y', Irish whiskey has the 'e' while the Scotch spelling omits it. Many distillers that try to match the taste of Scotch whiskies, like the Japanese Suntory distillery, also spell it without an 'e'.
Author: Adamus
28 Apr 2008
On the first day of my vacation in Portugal (which was great by the way) my girlfriend drags me into a dusty looking liquor store, tightly packed from cracked-tiled floor to dirty ceiling with all kinds of booze.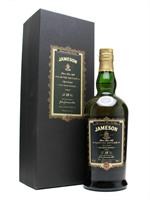 I immediately head for the whiskey section, of course. It's not particularly elaborate, but then my eyes fall upon a sight I'd never expect to see here: an original boxed bottle of Jameson 15 year old Limited Edition.
This particular vintage is a true collector's item. Bottled especially for the millennium, it's becoming increasingly difficult to get your hands on this glorious whiskey. And an obscure little liquor store near Albufeira, Portugal has not one but two of these wonderful gems. The price is €60 – nearly half the average online price of €115 for this rare vintage.
I'm inclined to by both but keeping my baggage limit in mind I opt for only one. It's a fine addition to my collection, and I don't want to spoil the joy of the discovery for the next Irish Whiskey connoisseur to stumble into this establishment.