Author: Adamus
27 Jul 2009
It's been a mad week here with little time for individual blog updates. So instead I've collected the interesting stuff of last week in one post:
That is all.
Author: Adamus
16 Jun 2009
For a few weeks I faced a dilemma: get the new HTC Magic or wait for the Palm Pre to be released here. Then I caught a whiff of this new application, exclusive to the Android platform (for the time being):

Layar – Augmented Reality
That pretty much ended my quandary right then and there. HTC Magic, here I come.
Author: Adamus
12 Nov 2008
Augmented Reality is coming. The Wikitude application for the G1 phone gives you information on nearby points of interest based on your GPS location and objects identified through your phone's camera. See a demonstration here:
(Via MobileCowboys)
Author: Adamus
7 Nov 2008
Mary Meeker from Morgan Stanley gives an annual presentation about the state of the internet at the Web 2..0 Summit. While I often think that big corporate analysts tend to be out of touch with what's really going on, I felt that this presentation gives a good overview of what's going on and where we're headed.
Author: Adamus
4 Nov 2008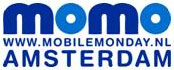 Yesterday I visited the 8th Mobile Monday event in Amsterdam. I'd been meaning to attend a MoMo much sooner than this but something always came up or it just wasn't convenient. But this time Bruce Sterling was one of the speakers, and a chance to see one of my childhood SF icons was too great to pass up.
The theme of this edition of MoMo was "How mobile is changing society" and all four speakers addressed this topic in their own way. Yet the similarities between their visions were overwhelming. They all spoke about contextual services, of how your mobile is turning into much more than just a phone and is becoming a device that delivers services to you depending on where you are and what you're doing.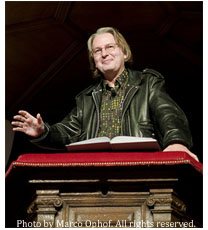 Bruce Sterling's talk lived up to the audience's high expectations, as he literally climbed the pulpit (the venue was a converted church) and preached to his disciples, the 'mobile sinners' as he called us. He spoke of the internet of things, about the explosive growth of connectivity and how we're building our technological future on an unstable, volcanic foundation.
Great stuff for technophiles like me. Yuri van Geest, one of the founders of MoMo, confessed to me that he's trying to get Ray Kurzweil and Vernor Vinge to come speak at future editions. If he actually manages to get that arranged there's no way on this earth I'll be missing out.
Author: Adamus
27 Jun 2008
Just got a new toy. My previous MP3 player was alright but didn't have enough storage and couldn't play videos, nor does it have an FM radio. The Zen is a superb device which has more features than you're likely to need. Which is exactly what a geek toy should have.
Author: Adamus
19 Mar 2008
This concept of a futuristic, augmented reality device is something I'd fork over major cash for right here and now. I'm afraid we'll have to wait a while though before those type of metaverse devices will hit the streets.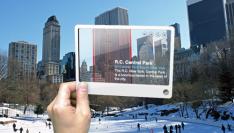 (Via Dutch Cowboys.)