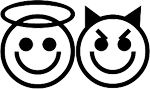 Last weekend I spent about 10 hours playing Mass Effect 2. I won't bore the non-gamers out there with superlatives on how fantastic it is, what a totally immersive gaming experience it provides, and how utterly compelling the story is.
Except I just did, but that's not the point I'm trying to make today.
For most of videogame history you as the gamer didn't have any moral choices to make in a game. You were the Good Guy and the goal of the game was to defeat the Bad Guys.
This gradually changed as gamers grew up and videogame designers got more comfortable with moral ambiguity in a game's storyline. Now a lot of games allow the player to make choices that directly or indirectly affect the plot and outcome of the game.
Back in the day when these types of games first came out, I always chose the 'evil' options. In any Star Wars game I was the Sith Lord, choosing the Dark Side of the Force while betraying friendships and killing good guys.
In the first Fable I was so thoroughly evil that halfway through the game my character had already spawned horns and caused entire villages to evacuate at the first sight of me.
When World of Warcraft came out I only chose an Alliance Night Elf because my buddies played Alliance, but I really wanted an Undead Warlock to wreak havoc with. (I've since become totally committed to my NE Druid but that's mostly because of the class's überness.)
And don't even get me started on one of my all-time favourites: Carmageddon.
But games got more refined, and what started out as simple black & white choices between good and evil has now turned in to a landscape of shades of grey. The Bioware game studio is considered a master of games with moral choices, and their latest product has left me feeling rather, well… confused.
The game I'm talking about is of course Mass Effect 2, and the confusion stems from a sudden inability on my part to make 'evil' choices.
Mass Effect 2 is a sequel (of course), and I played the first Mass Effect twice – one as the 'good guy' and one as an evil bastard. I thoroughly enjoyed both versions. The ending of the game wasn't affected too much, but the whole feel and mood of the game changed. Overall I wasn't too bothered by the choices I made, I just wanted to play the game to its full potential.
Mass Effect 2, however, has changed things. ME2 offers abundant opportunities to make moral choices, and many choices are pretty straightforward – kill or let live, steal or give back, lie or be truthful.
But some choices you have to make aren't so monochrome. Do I intimidate and hurt this man to give me vital information that can save lives, or do I go easy on him? Do I kill this repentant bad guy, or do I let him go and trust he won't commit more crimes? Do I shoot the frightened hostage aiming a gun at me, or do I try to talk him down from his panic?
And those are just the direct choices. The game is rife with choices that have deeper meaning and longer-lasting repercussions. Do I take the quick and often violent way through missions, bullying and intimidating my way around, generating more money for myself and my team members so the better, bugger guns are available faster and I can save the universe more efficiently? Or do I walk the straight and narrow path which invariably makes it more difficult and challenging, but the trail of corpses and devastated lives in my wake will be considerably thinner?
What used to make these choices so easy is the realisation that it really was just a game I was playing. Pixels on a screen, bits and bytes, lines of code, all that jazz. But Mass Effect 2 is such an advanced game, graphically and gameplay-wise, that you don't feel like you're playing a game. You become immersed in it, you are part of the game, and the choices you make in the game somehow reflect on you as a person.
And because of this I find myself unable to make any choice in the game that could be considered 'evil'. Sometimes the morally grey choices leave me almost paralysed because I can't figure out what the best option is. Occasionally I loathe myself for shooting the bad guys, even when they're shooting at me, because the game succeeds so magnificently in painting its characters as real living beings. Even the aliens seem real, which is a truly amazing feat of game design.
So I'm confused. As with the first game I want to play Mass Effect 2 twice, making radically different choices in each session.
But I already know I won't. Not this time. The game is too good, the voice-over acting too convincing, the digitally generated facial expressions too real. A part of me wants to be the bad guy again, rampaging my way through the gameworld, uncaring and unfeeling.
But that's not who I am in the real world. And because of that, in Mass Effect 2 I can't be that person in the game world either.